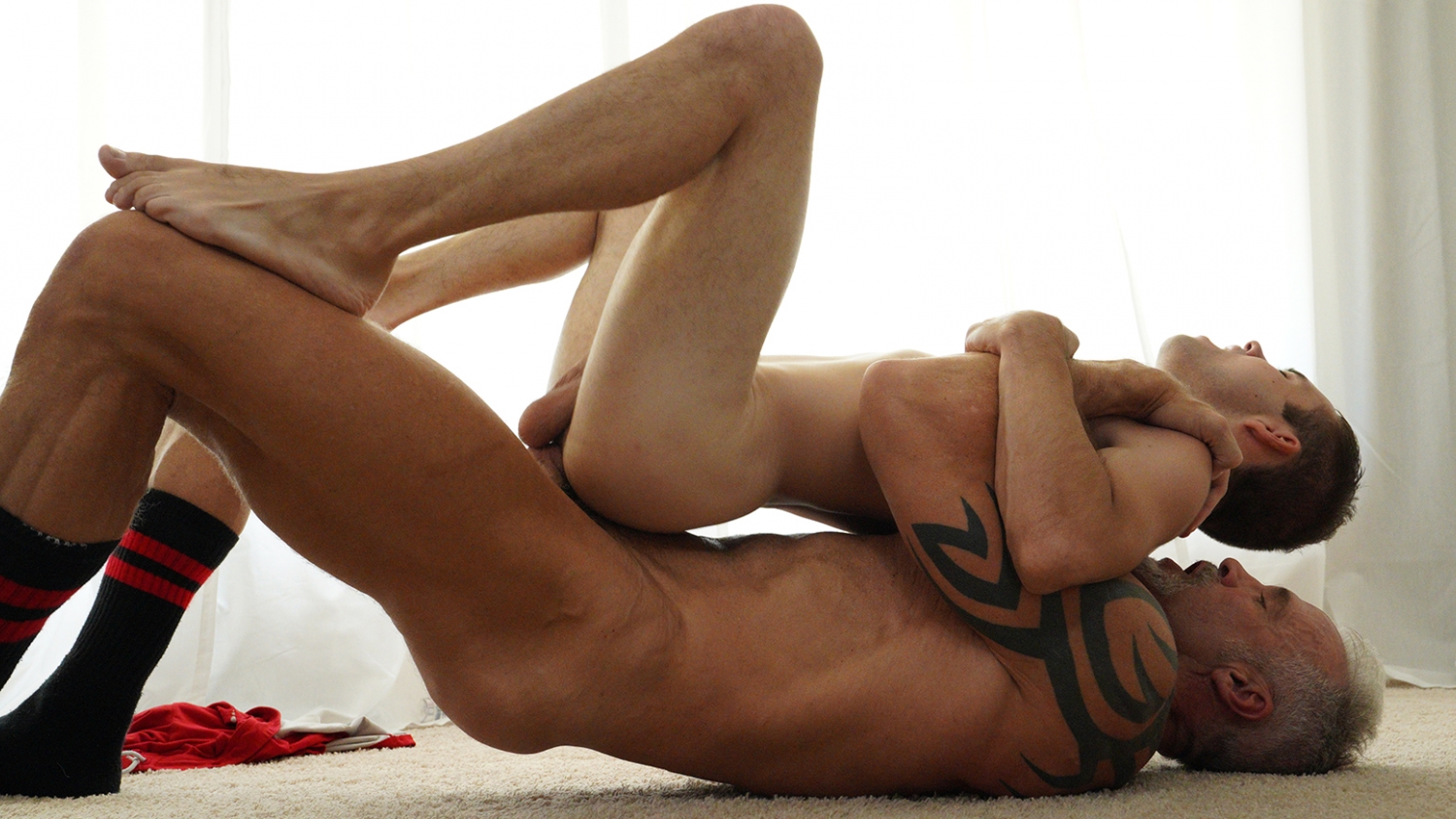 Hunky Personal Trainer
Dallas can't get enough of his little friend, Marcus. The older man can't help but smile at seeing how bold and proud the boyish bottom stands despite his stature. Marcus is enamored with the muscle giant's physique, impressed by his size and strength. Taking him out of the tailor's shop, Dallas offers to give Marcus some special training sessions. Dallas wouldn't change a thing about his little buddy, but he'll do anything if it means getting him alone and seeing him sweat!
As they start ...
Read more
As they start their workout, Dallas is proud of Marcus' hard work, but also amused by their difference in size. Dallas' knows his arms extend the entirety of Marcus' height and his legs are a good foot longer than the tiny boy's. The daddy's muscles are broad and developed, making his body dwarf his young guest's. Dallas can't help but to show off for his little friend, flexing his big muscles and allowing Marcus to swing from them, barely working hard to keep his little body aloft.
Their playful exchanges get more sexual as Marcus sees Dallas' cock growing hard in his tight, red, coach's shorts. They try their best to focus on exercises, but it's not long before the two want to strip off their clothes and fuck!
Marcus pulls out Dallas' cock, filling his tiny mouth with the big tool, and taking it to the back of his throat, while the muscle daddy stands tall above him. Dallas fucks the boy's mouth, feeling like a giant being serviced by his hungry, loyal servant.
Dallas moves to have Marcus practice his push ups, cleverly getting on top of him and teasing his hole with his cock! The horny boy works Dallas' shaft with this tight hole until the big man slides himself fully inside, giving Marcus a good stretch and insisting he keep up his drills. Marcus lifts himself up and down, working his muscles as his body massages Dallas' cock.
As the boy gets weaker and collapses to the floor, Dallas takes over, doing his own sets of push ups, plunging himself back into the boy's body, and feeling his massive shaft split the boy's cheeks!
Their rigorous fucking continues, taking on a decidedly atheltic performance, keeping their heart rates up and sweating as they get closer to Dallas' ultimate goal; a hot bareback breeding of the tiny bottom!
Height: 6'4"
Weight: 224 lbs

Dallas takes pride in his appearance. He eats right, works outs, and makes sure he dresses in style. As a taller, muscular man, 6'4", he knows the importance of a good fit in his clothes. As a tailor, he sizes men up all day long. But there's nothing more satisfying than seeing the extremes of the sprectrum.

When he finds a handsome smaller client, he loves wrapping his measuring tape around them and experiencing their size up close. And sometimes, when the client is extra tiny, he can't help but take a little longer on each measurement.
Height: 5'3"
Weight: 107lbs
Build: swimmer

Marcus loves being a "pocket gay." He loves being tiny, skinny, and cute and getting the attention of much bigger, taller men. Every since he was young, he loved being the small one in school, very aware that his short stature could be an asset in certain scenarios. When he sees a bigger guy looking at him lustfully, he knows exactly what they're fantasizing about: seeing his tiny body sliding down on their big dick.

He loves nothing more than being mounted by a giant, feeling his ass stretch to take every inch.When he hears about tall men with a fetish for shorter guys, he eagerly seeks them out, hoping for a chance to play with the big boys.