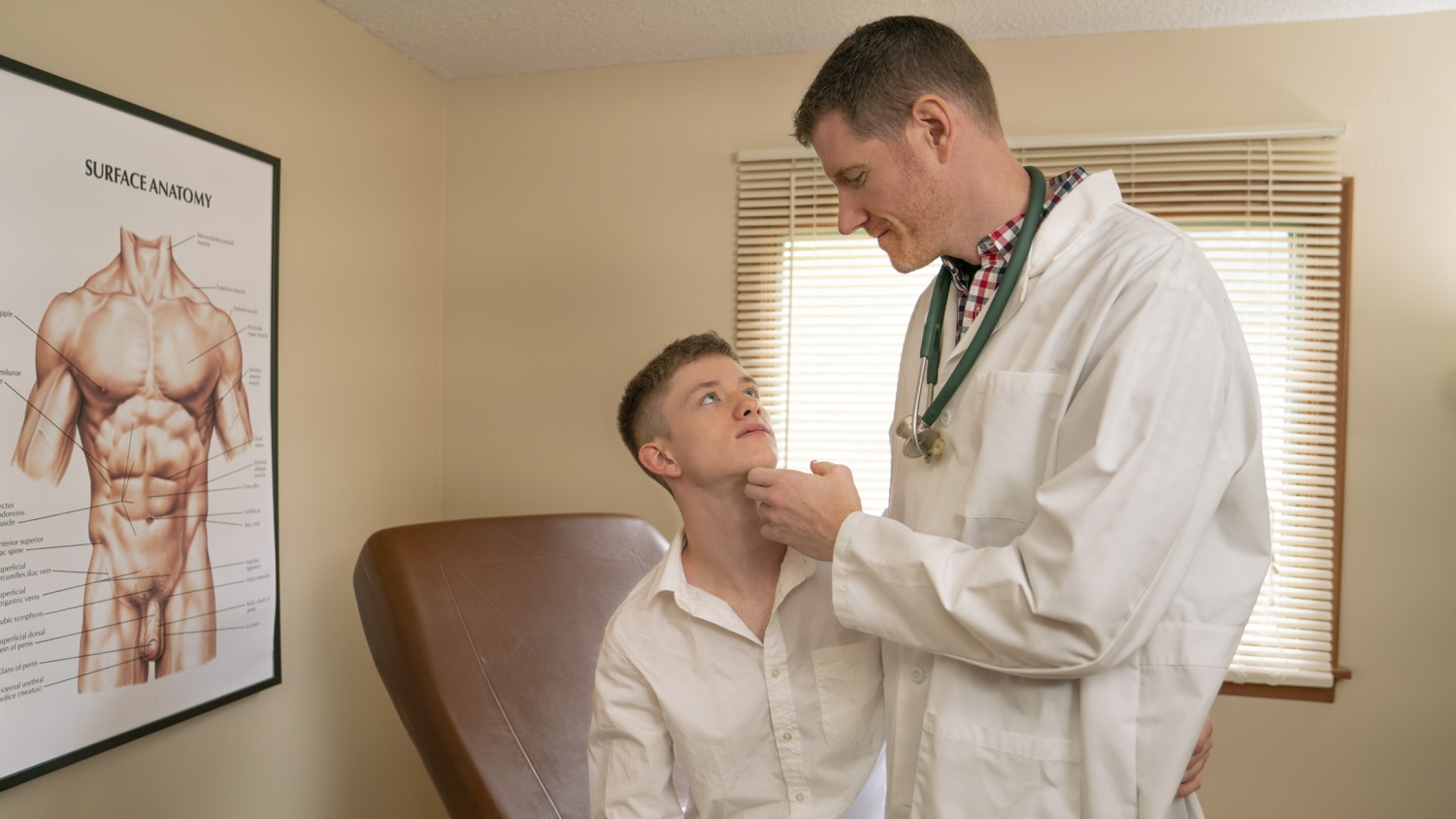 Dr Wolf's Office
Jonathan shows up to his annual physical a bit nervous. He recently turned 18 and, like all boy's his age, sex is on his mind non-stop! He really wants to have sex, but he's a tiny, little guy who's got a thing for bigger men. Seeing little guys like him getting fucked by huge guys in porn turns him on, but he's afraid it will hurt when he finally gets what he desires. He hopes he can broach the subject during his next doctor's visit, but has no idea if he'll have the courage to actually bring it up.
When Dr. Wolf sees Jonathan's name among the list of the day's patients, the physician is surprised an entire year had passed since his last physical. Jonathan was a sweet, adorable young man with a fit, compact 5'4 body. Dr. Wolf found Jonathan to be perfectly healthy, despite his parents' worry that the boy wasn't growing as fast as other boys his age…
Over the course ...
Read more
Over the course of their exam, the handsome doctor gets Jonathan undressed. The boy's firm, young body had become muscular and toned in ways that were quite admirable. Although he'd been through the exam many times in the past, the boy seemed fidgety whenever the doctor touched his body. Dr. Wolf could tell the boy was enjoying his touch. The doctor hadn't yet asked the boy about his sexual orientation, but he wondered if the young man would confirm his suspicions.
Given the advent of online pornography, the boy's concern shouldn't have caught the physician so completely off guard! Not only was the boy into other boys, but he was into men who were much bigger than him. He was surprised to find the boy was extremely nervous that he wouldn't be able to accommodate much inside his tight little backside.
The handsome, older man quickly reassured Jonathan that his little anus was indeed quite pliable. With some practice, the boy would learn to accommodate the girthiest and largest of endowments. Dr. Wolf knew from experience that the issue was almost always psychological — fear of the unknown during a boy's first time. His explanation prompted Jonathan to ask if he could show Dr. Wolf the problem, and maybe then help him figure out the best way to loosen up…
The young athlete quickly lies face down on the exam table while the tall, handsome doctor begins the slow process of filling his virgin hole with a plug. It satisfied the doctor to feel the boy's tight sphincter struggle to take the small bulb. As the boy's moans went from pain to pleasure, he was given the feeling of being penetrated, and the doctor became even more aroused!
As the small guy struggles to take the stretching, his trust in his doctor makes it possible. He feels safe in the big, strong hands of the handsome man. The doctor is hardly surprised by how aroused the young man had become, but was surprised by how quickly the boy's little anus seemed to readily accommodate more.
Dr. Wolf was turned on by his tiny patient's deflowering, watching with pride and excitement as the little guy took more and more of what he was given. Jonathan's cock grew hard against the table, leaking a river of precum as Dr. Wolf finally offers him the chance to upgrade to the real thing…
The boy responds by lifting his legs and watching as his tall, handsome doctor pulls his huge cock out of his pants and readies it for his hole. He can't believe the size of the man's huge erection! With his ass warmed up and wet, the doctor pushes the enormously fat mushroom head of his cock past the virgin boy's tight little sphincter. It doesn't take long before he's able to take the giant man's member smoothly, feeling it slide up against his prostate in one, long, pleasant push.
Jonathan can't believe he's finally losing his virginity, but can't be happier to have it happen in the safety and privacy of his doctor's office! Dr. Wolf pumps his thick cock into the small boy, giving him the most explosive and pleasurable orgasm of his young life to date!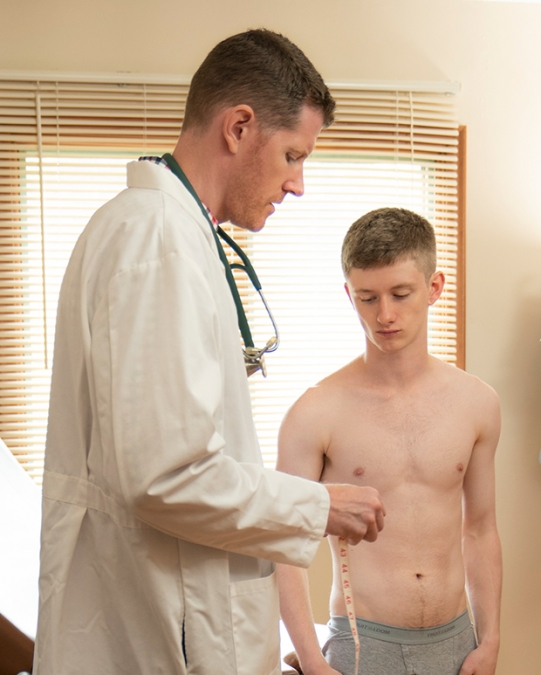 Height: 6'6"
Weight: 210 lbs

Dr. Wolf is an endocrinologist who specializes in helping young men monitor their growth. And in some cases, their lack thereof. But he understands that nothing about a short or small guy is necessarily unhealthy. In fact, it can be quite desirable. Towering over his patients at an impressive 6'6", he loves seeing the look in their eyes as they look up at him in his suit and tie. Professionally, he wants everyone to feel safe and secure in his office. Personally, he fantasizes about seeing each little guy mount up on his big cock! And when he gets the chance, he loves to make them whimper as he stretches their tiny little holes, and then completely submit under him as he pushes into their much smaller bodies.
Height: 5'4"
Weight" 116 lbs
Build: pocket jock

Jonathan is an athlete with a passion for being physical and playing his best. He's in great shape, very strong, and puts in the work. But at 5'4", he knows he has to work twice as hard to be seen as just as fast and capable. He used to worry about not being bigger, but now, he's starting to realize there's power in being smaller.

He's developed a real fetish for size differences in gay men and is curious to try having sex with someone bigger! He's nervous to give it a try, and just like his workouts, he's willing to put in the time to make it happen!