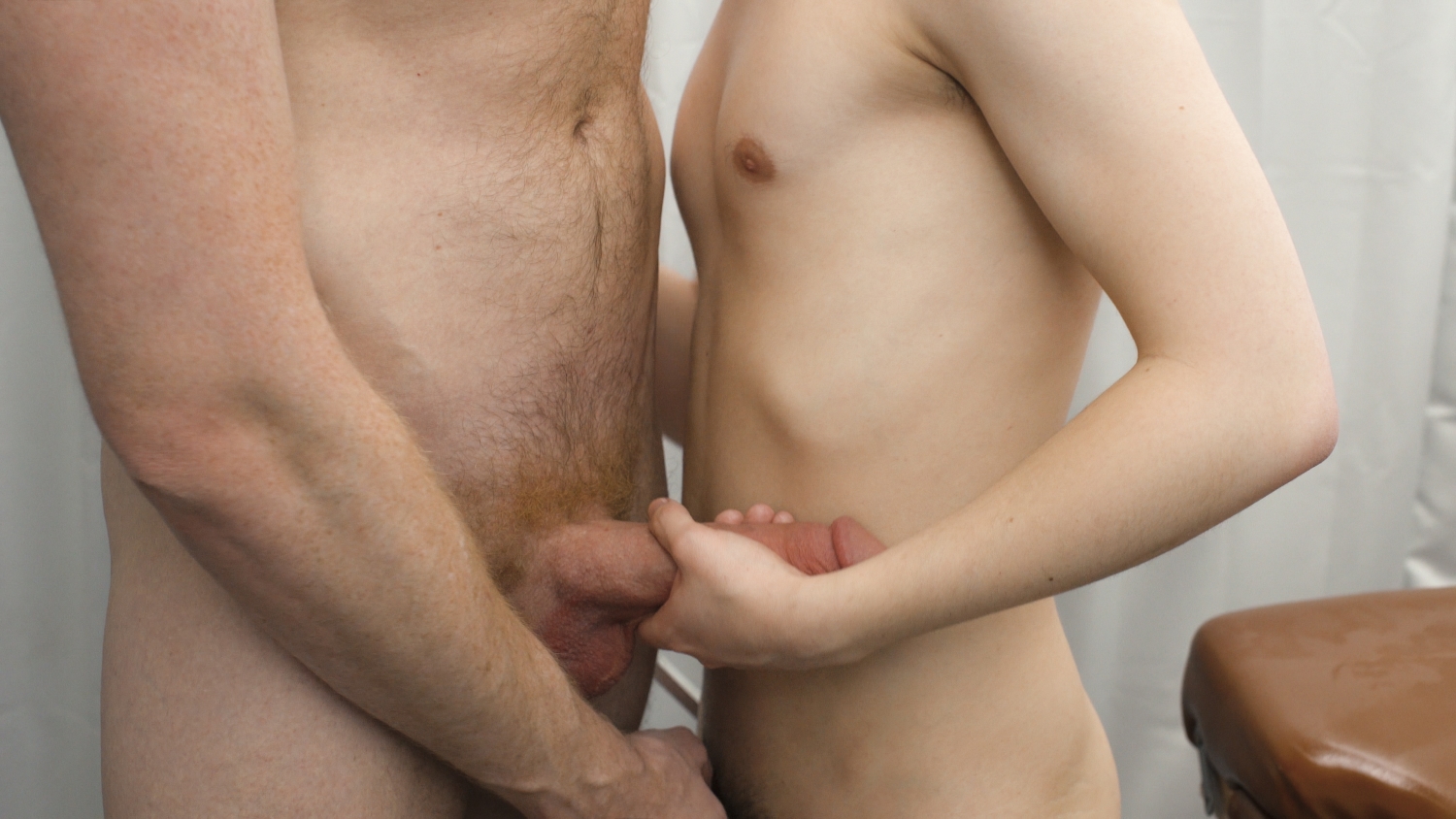 Dr. Wolf's Office
Eli strips off his briefs, readying himself for his routine genital examination. It's a little awkward and uncomfortable to have another man handle his penis, but he's been going to Dr. Wolf for a while and trusts him completely. Annual physicals are invasive and strange, but he knows they're necessary. He's always liked the handsome doctor, and Eli was minding the inspections less and less. In fact, he's unusually excited today…
Eli is short ...
Read more
Eli is short for his age. Not just short, but tiny! As Dr. Wolf carefully and procedurally holds his balls in his hands, Eli can't help but notice just how tall the man is. His long arms and legs seem to stretch on forever. Even his hands are huge compared to his own. Even sitting down, he's almost as tall as Eli standing! Eli feels tiny as he'd being held, as if he could fit into the doctor's palm completely, and get put into his pocket. The idea bounced around in his head as Dr. Wolf continued, making him feel a rush of blood to his genitals he did not anticipate.
He was starting to have more and more sexual thoughts as he got older. The things that were routine and banal before now suddenly had a new context and meaning. Eli had shown his penis and butthole to the doctor before, but now, he started to wonder if the doctor might like what he saw. He feels his face flush as the older man spreads his cheeks apart, inspecting his anus… The touch of his finger triggers something new in Eli!
The wet lube excites the nerves on his delicate, pink hole. The doctor's probing fingers put pressure on his insides, making him feel something he's only known when he touched himself at home. He lets out a breath. An audible moan from the sensation. He isn't sure if this is supposed to feel like this. His cock grows harder, hanging between his legs, forgetting where he is and why he's there.
Dr. Wolf continues to finger his hole, going deeper and longer, feeling around for his prostate. The sound of the boy's moans excite him, making him work perhaps more intimately than necessary. He likes the little guy and likes to see him experience pleasure. It's his weakness, but he continues on with the exam, feeling his own heart race and genitals swell at the thought of the tiny boy getting off on his touch…
Dr. Wolf withholds his arousal, wanting to proceed professionally and respectfully. That is until Eli expresses his sexual concerns. The young guy is worried that given his size that sex with another man may not be possible. The boy's face glows bright red as he stutters out his words, not sure how the doctor will respond. Fortunately, Dr. Wolf is pleased, and slightly amused, at the boy's innocence and curiosity. His boyish expression becomes more than he can resist, leading him to offer some unique help in addressing his issue.
The older man knows firsthand that little guys can take just about anything! It's all a mental game of desire, patience, and trust. He gets the boy on his table, lifts his legs up and the stirrups, and guides him through an exploration of his hole. Eli trembles as he spreads his legs, knowing this will be his first sexual experience with another person. He never thought it would be in a medical office, but he's also happy to have someone he trusts to show him what his body is capable of…
Dr. Wolf's eyes widen as he sees the boy submit to him. Eli wants to take a dick so badly and is willing to do anything to make it happen! Legrand sees the boy's gaze on him as he presses the first toy to his hole, seeing his expression change as it moves past his sphincter. The sight of it was enough to bring Wolf's cock to full attention, watching with pride and excitement as the boy took it inside.
Moving larger, the older man takes out a dildo, roughly the size of an average man's cock, and teases the boys hole with it. He watches the boy play with his balls, closing his eyes and breathing deeply. It takes a little bit of work, but soon the boy has the head of the phallus inside his hole, feeling the stretch and the burn of the penetration subside and turn to pleasure.
Dr. Wolf holds it in place, giving the muscles time to adjust. He has a feel for these things and knows when to push and when to pause. Inch by inch, he manages to work the larger toy into the boy's hole as he lets out deep breaths of ecstacy. He wants to give him even more! To make him feel alive and in control of his body and his sex. It's not a race, but he knows at the end, Eli will be ready for the real thing…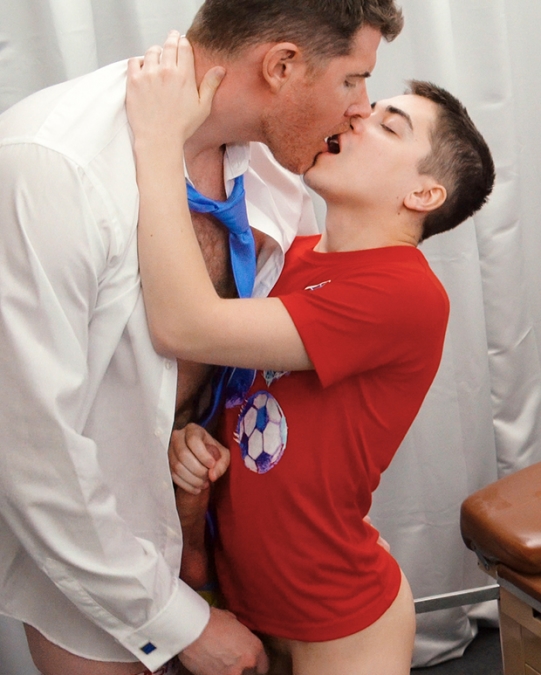 Height: 6'6"
Weight: 210 lbs

Dr. Wolf is an endocrinologist who specializes in helping young men monitor their growth. And in some cases, their lack thereof. But he understands that nothing about a short or small guy is necessarily unhealthy. In fact, it can be quite desirable. Towering over his patients at an impressive 6'6", he loves seeing the look in their eyes as they look up at him in his suit and tie. Professionally, he wants everyone to feel safe and secure in his office. Personally, he fantasizes about seeing each little guy mount up on his big cock! And when he gets the chance, he loves to make them whimper as he stretches their tiny little holes, and then completely submit under him as he pushes into their much smaller bodies.
Height: 5'3"
Weight" 108 lbs
Build: Funsize Swimmer

It wasn't that long ago that Eli realized he was attracted to men. In fact, he first made the realization during an annual physical. He had been seeing the same doctor forever. His mom had been taking him to see this physician since it became apparent that Eli wasn't growing as fast as the other boys his age. As a teenager he now went to his appointments by himself. And the freedom to be alone with his doctor became very appealing. He had come out as gay already, but never told anyone how he felt about his tall handsome doctor. He didn't know if his doctor was gay, but he was determined to find out and then, with any luck, seduce the giant man.