Follow Up Doctor Visit
Per doctor's orders, Chase had been masturbating a lot! He would get online at least two or three times a day, lube up his cock, and jerk off to porn. He enjoyed the feeling it gave him, especially when he found a hot scene between a bigger man and a smaller guy. But every time he came close to climax, he closed his eyes and pictured Dr. Wolf...
He was fixated ...
Read more
He was fixated on the older man who had played with his hole and showed him how to feel good. He couldn't stop imagining what his cock would feel like in his hand, in his mouth, or in his ass! And the more he thought about it, the more he would jerk off. His prior concerns had been replaced with an absolute fascination with his physician.
Naturally, he called in for a follow-up visit. He wasn't sure what the doctor would do, but he had to see him again. If only to refresh his memory of the hot visit he'd had before!
Walking into the exam room, Chase immediately felt himself become flushed. Dr. Wolf was so handsome and tall; even sitting down he was the same height as Chase! He remembered how it felt to see him towering over him on the table, and his cock began to grow instantly.
Dr. Wolf saw his swollen cock the second he took his pants off. On a boy like Chase, it was hard to miss the enormous, eight inch cock that hung between his legs. He examined him all the same, checking to make sure the young man was still in top health.
Bending him over, Dr. Wolf spread his cheeks apart, examining his hole to ensure it was healthy as well. The young guy had never had anything bigger than a butt plug in him before and he had to see that it wasn't injured before carrying on with anything else.
Chase could hardly breathe as the doctor lubed up his hole, fingering it as he felt inside. He almost shot his load when the tip of the doctor's digit pressed against his prostate, but he held back, not wanting the feeling to stop. This was made more challenging as Dr. Wolf held his hard cock in his big hand...
Dr. Wolf knew Chase was in need of some relief. The prescribed masturbation wasn't doing the trick that he'd hoped. Fortunately, Chase's hole seemed to be healthy and quickly adaptable to his probing fingers. He knew the young man wanted his cock and he was more than happy to give it. And besides, he too, had been jerking off to the thought of Chase taking his big cock!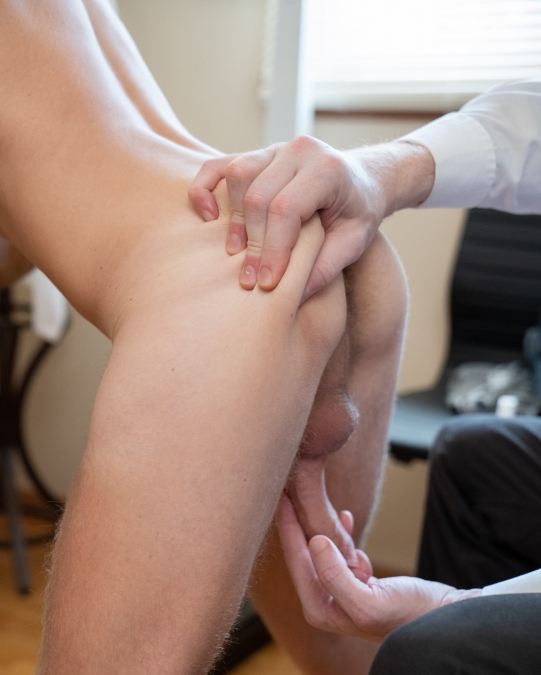 Height: 5'2"
Weight: : 113 lbs

Chase is still getting used to his body. At only 18 years old, he's still figuring out what he's capable of. He's shorter and leaner than most, but he's got a sweet smile and a handsome face that certainly draws people in! And while the others might be looking to get him in bed, he's only just now figuring out how to pleasure himself. Sexual education aside, his fantasy life is as healthy as can be. He loves the idea of being fucked by a handsome, older man; climbing on top of his body and riding him for hours! And standing at 5'3", most men are climbable...
Height: 6'6"
Weight: 210 lbs

Dr. Wolf is an endocrinologist who specializes in helping young men monitor their growth. And in some cases, their lack thereof. But he understands that nothing about a short or small guy is necessarily unhealthy. In fact, it can be quite desirable. Towering over his patients at an impressive 6'6", he loves seeing the look in their eyes as they look up at him in his suit and tie. Professionally, he wants everyone to feel safe and secure in his office. Personally, he fantasizes about seeing each little guy mount up on his big cock! And when he gets the chance, he loves to make them whimper as he stretches their tiny little holes, and then completely submit under him as he pushes into their much smaller bodies.