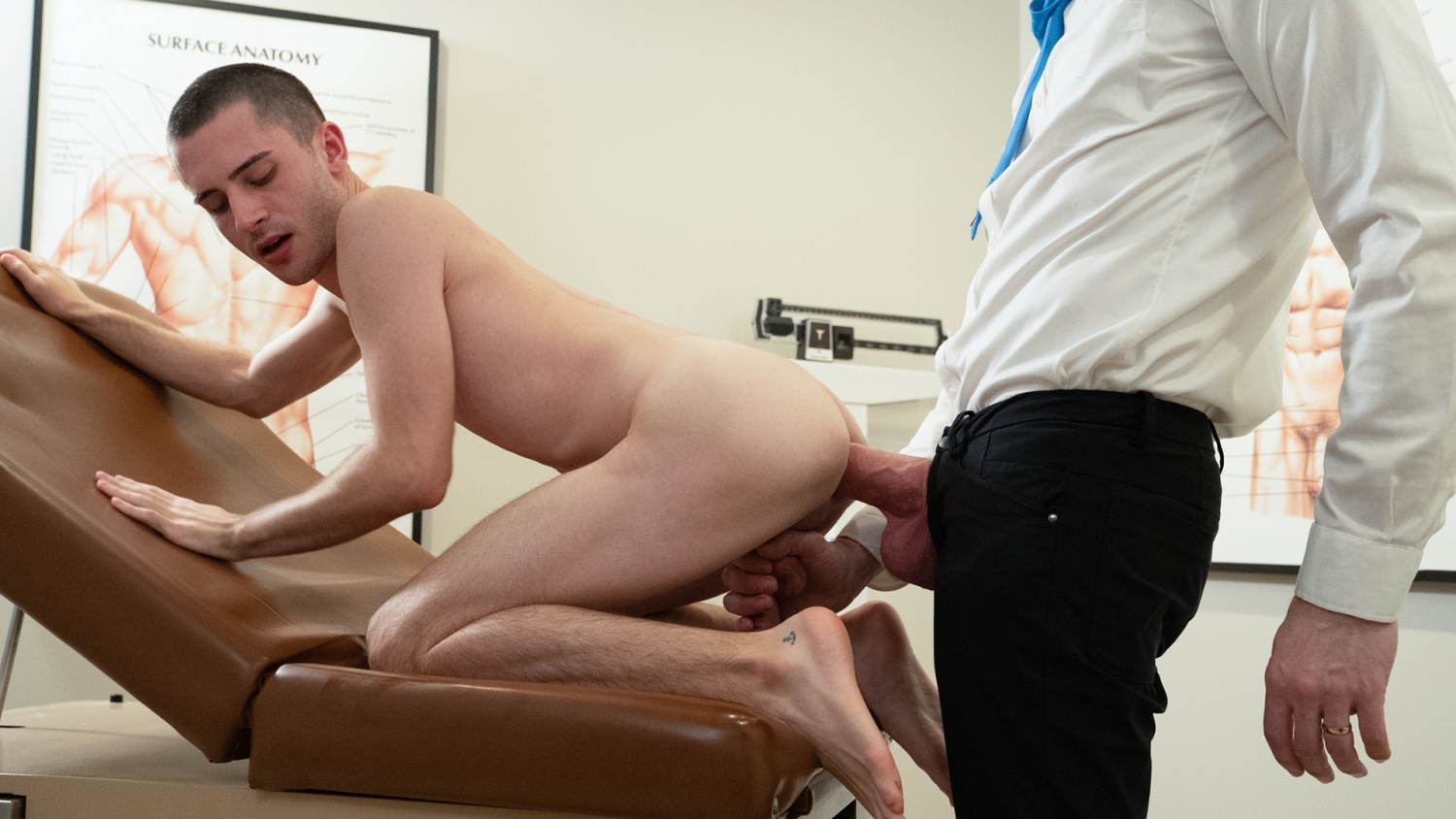 Follow Up Visit
It's been two weeks since young Oliver's first visit to Dr, Wolf's office, and he can still barely believe it happened. His tiny butt was still a little sore from their last encounter, but he had to see the big man again.
Dr. Wolf has ...
Read more
Dr. Wolf has a keen mind for reading his patients, especially the boys, and the doctor knows exactly why Oliver made a followup appointment so soon. Dr. Wolf dismisses his nurse for the day when he confirms his suspicions about why Oliver has come. The moment after the door closes, his lips are on Oliver's and his hands are caressing the boy's small frame. Oliver's breath catches in his throat from the sensation of the man's huge hand engulfing his small waist, and he can't stop himself from reaching for Dr. Wolf's crotch.
"Let's get you out of those clothes," Dr. Wolf says, and begins to help the boy undress. He smiles at just how small Oliver's shoes appear in his huge hands. The boy's foot is barely the length of the doctor's hand. Dr. Wolf helps Oliver off the examination table and leans down to kiss the boy, who has to crane his neck and stand on his toes to kiss him back while his pants are undone. Oliver wore his sexiest undies for Dr. Wolf and the moment the boy's shirt is off, the man reaches into them to massage the tiny gay bottom's tight hole.
With his pants down only as far as his thighs, Oliver pulls himself up around Dr. Wolf's neck to kiss him. His ass cheeks spread open as he wraps his legs around the older man's waist, and Dr. Wolf's large fingers have free reign of the boy's hole. Dr. Wolf lays Oliver back on the examination table and presses the boy's cute little pucker with his thumb. He soon has to let his giant cock and balls out of his fly to tease Oliver's hole with the broad head. Oliver remembers how the older man had filled him nearly to bursting last time and he whimpers, "Please, I want you inside me." He locks eyes with Dr. Wolf as the man presses that massive dick against his eager hole.
Oliver's hole gives way slowly to the doctor's bloated knob. Even as he's stretching to accommodate the huge cock, Dr Wolf pulls out to look at the boy's gape. The man tugs on Oliver's nuts, barely half the size of his own. Dr. Wolf cradles Oliver's neck so they can look at one another as he slides deeper, crushing the boy's prostate and causing the little guy to cry out. Oliver's hole is left gaping each time the doctor withdraws, but he can feel the huge cock with a hand on his tummy each time Dr. Wolf thrusts back inside.
Dr. Wolf removes Oliver's jeans and helps him flip over so Oliver can ride back on him. The two smile at one another as Oliver drops down all the way onto the man's huge cock. Pressing the boy's hips down, Dr. Wolf digs as deep as he can get to really widen him out. Just when Oliver is certain he can't take anymore, Dr. Wolf lifts his small body into the air causing Oliver to reach back and hold onto the doctor's neck. Completely suspended in the air and arched back against Dr. Wolf's torso, Oliver could swear he feels the huge cock pressing against his abs from inside.
Oliver jerks his cock feverishly as Dr. Wolf places him back on the table to thrust deeper and faster between his spread cheeks. Oliver's moans increase as Dr. Wolf's cock swells even bigger inside him to pump a deep dose of hot cum into the boy's stretched hole. Pulling out slowly, Dr. Wolf watches as cum pours from Oliver's well-used hole. Dr. Wolf presses in deep again and leans down to cradle the boy's entire body in his strong arms, giving him a slow deep kiss for a job well done.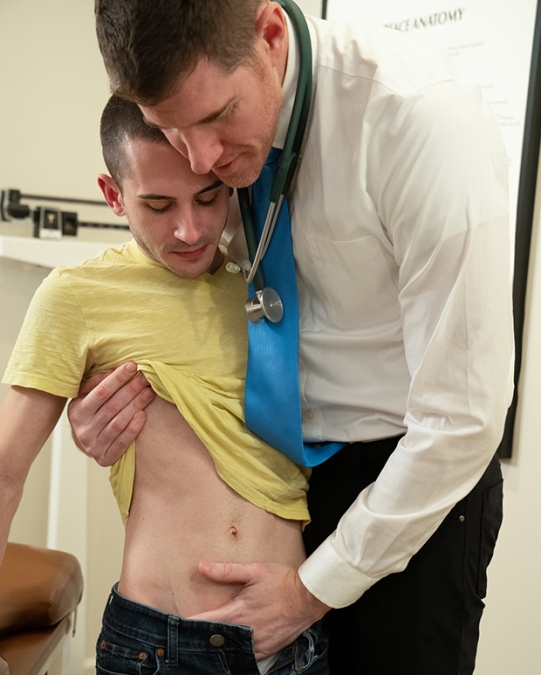 Height: 6'6"
Weight: 210 lbs

Dr. Wolf is an endocrinologist who specializes in helping young men monitor their growth. And in some cases, their lack thereof. But he understands that nothing about a short or small guy is necessarily unhealthy. In fact, it can be quite desirable. Towering over his patients at an impressive 6'6", he loves seeing the look in their eyes as they look up at him in his suit and tie. Professionally, he wants everyone to feel safe and secure in his office. Personally, he fantasizes about seeing each little guy mount up on his big cock! And when he gets the chance, he loves to make them whimper as he stretches their tiny little holes, and then completely submit under him as he pushes into their much smaller bodies.
Being the shortest guy in your grade can be tough. Oliver knows that standing 5'5 isn't a big deal, but feeling shorter than everyone else every day can be rough for an insecure guy. But he's starting to realize that his height might be his super power, as he's exposed to more and more men who find his small size an attractive quality. And as he spends more time with them, he's beginning to understand that he likes being diminutive. And he especially likes feeling every more slight when he's with a bigger, more muscular man. There's something sexy for them both about Oliver making the other man look and feel like a giant—and Oliver really likes having that power over taller men!