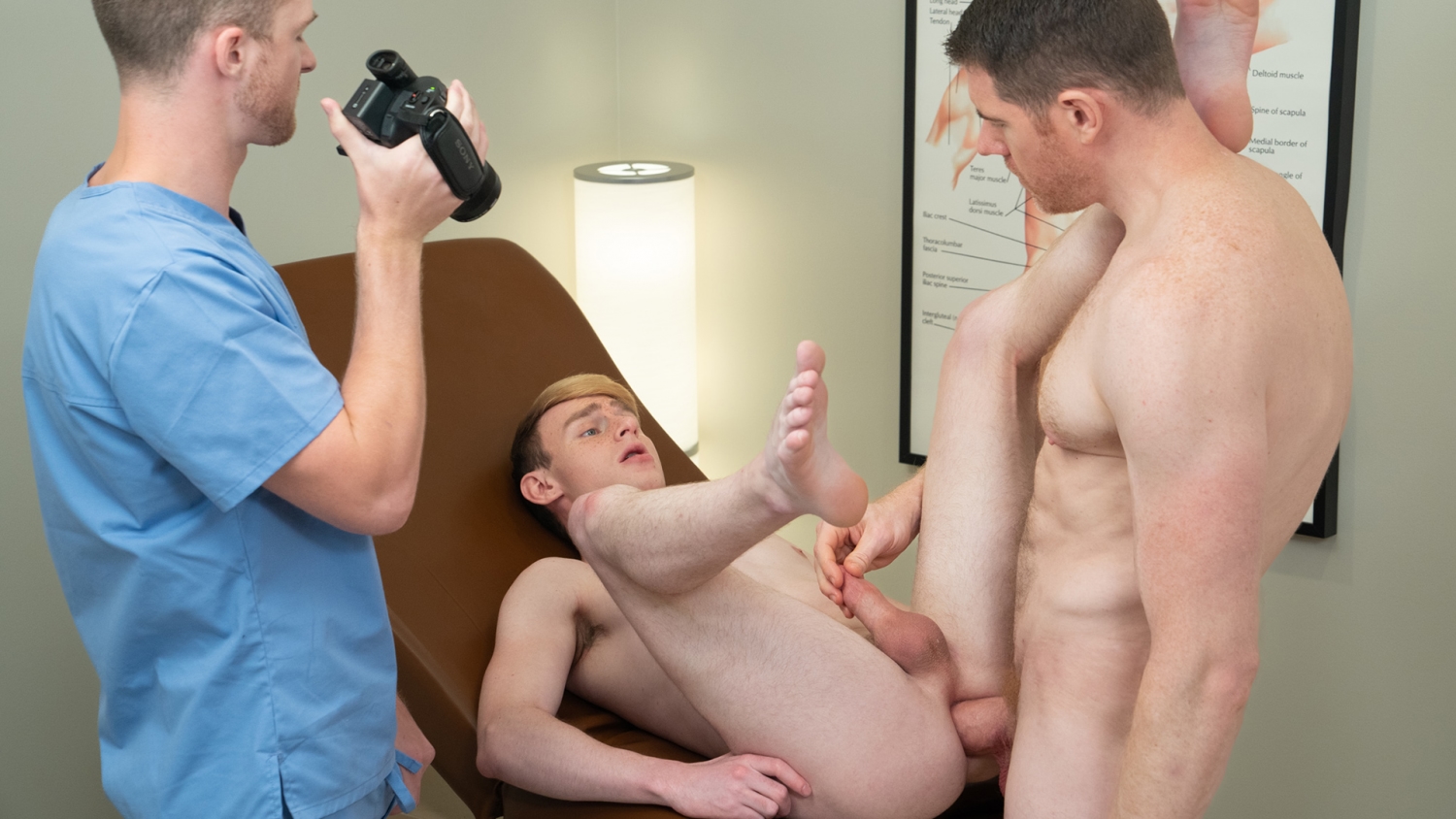 Dr. Wolf's Office
Eric didn't know what to expect from his visit to the doctor's. He'd gone occasionally growing up, but now that he was an adult, it was all on him to schedule an appointment. He was a little nervous about the whole thing. Dealing with insurance and copays was daunting enough. But he also knew he was likely going to have to get naked… something of which he was a little scared.
He couldn't explain ...
Read more
He couldn't explain why, but the idea of being naked in front of a stranger always made him uneasy. He was careful not to be in such a situation when swimming or at the gym. Simply, he didn't want to be exposed.
He put off his appointment as long as he could, but eventually it came time when he needed to get a check up. His face was flushed red as he waited for the doctor to enter the office, anticipating the moment when he'd get the dreaded hernia exam. He didn't know what Dr. Wolf looked like; only that he was seeing new patients. So when the tall, handsome, middle-aged man walked in, Eric was a bit relieved.
He was still nervous, but something about Dr. Wolf's manner made him feel more comfortable. He was pleasant, friendly, and direct, showing both confidence and experience with what he was doing as well as being happy to do it. Eric imagined how many patients he sees in a day, thinking that he was probably going to be a quick in and out and that the doctor wouldn't even remember him.
When Wolf asked him to take off his pants, he realized he wasn't wearing any underwear! He caught himself feeling a little embarrassed, pulling down his shorts slowly. He didn't mean to, but he got ready so fast and distracted that he barely made it out the door on time at all. But now, with a quick slip of the waist band, he was standing with his member out, naked and exposed in front of Dr. Wolf.
Despite Eric's beet-red face, Dr. Wolf barely seemed to register Eric's novel nakedness. He proceeded to inspect him, measure him, move him, and weigh him. It was only Eric who felt the strange sensation of being naked next to a fully clothed man.
But as the exam continued, found himself becoming overcome with a different sensation altogether. The gentle touch, the personal attention, and soft spoken manner of the handsome man triggered his penis to stand up even before the hernia portion. He didn't know what to do about it, but he tried his best to hide it or ignore it, hoping it would go away.
Dr. Wolf didn't seem bothered. If anything, he was a little amused. Even at one point taking what Eric saw as an opportunity to play with it a little. Eric watched as the doctor took a finger to the tip of his penis, collecting a bit of pre-cum that had made its way out of his member and stringing it out.
Eric didn't know what to do, but as he felt himself getting harder, the feeling in Dr. Wolf's hand turned definitively erotic...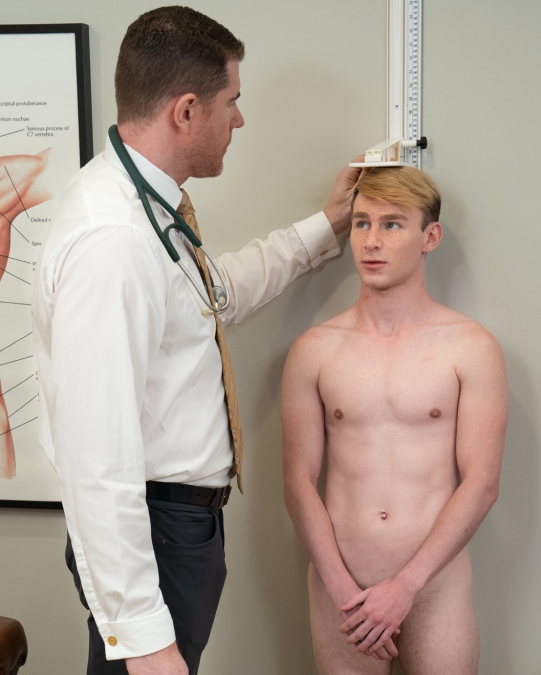 Height: 6'6"
Weight: 210 lbs

Dr. Wolf is an endocrinologist who specializes in helping young men monitor their growth. And in some cases, their lack thereof. But he understands that nothing about a short or small guy is necessarily unhealthy. In fact, it can be quite desirable. Towering over his patients at an impressive 6'6", he loves seeing the look in their eyes as they look up at him in his suit and tie. Professionally, he wants everyone to feel safe and secure in his office. Personally, he fantasizes about seeing each little guy mount up on his big cock! And when he gets the chance, he loves to make them whimper as he stretches their tiny little holes, and then completely submit under him as he pushes into their much smaller bodies.
Eric is the definition of the sweet, innocent boy-next-door. With his bright eyes, open face, and soft pouty lips, he has always been the "pretty one" in his group of friends. Despite this, he has always been self-conscious about his appearance. He's always felt too small, too short, too smooth and too boyish. He wishes he could be bigger and taller, thinking that will make him more attractive and more appealing. Despite his perfect, soft, round bubble butt and impressive body, he's not completely comfortable showing off or even being seen naked. It's not until he finds himself on the doctor's table that he begins to appreciate what he's got… small stature and all.