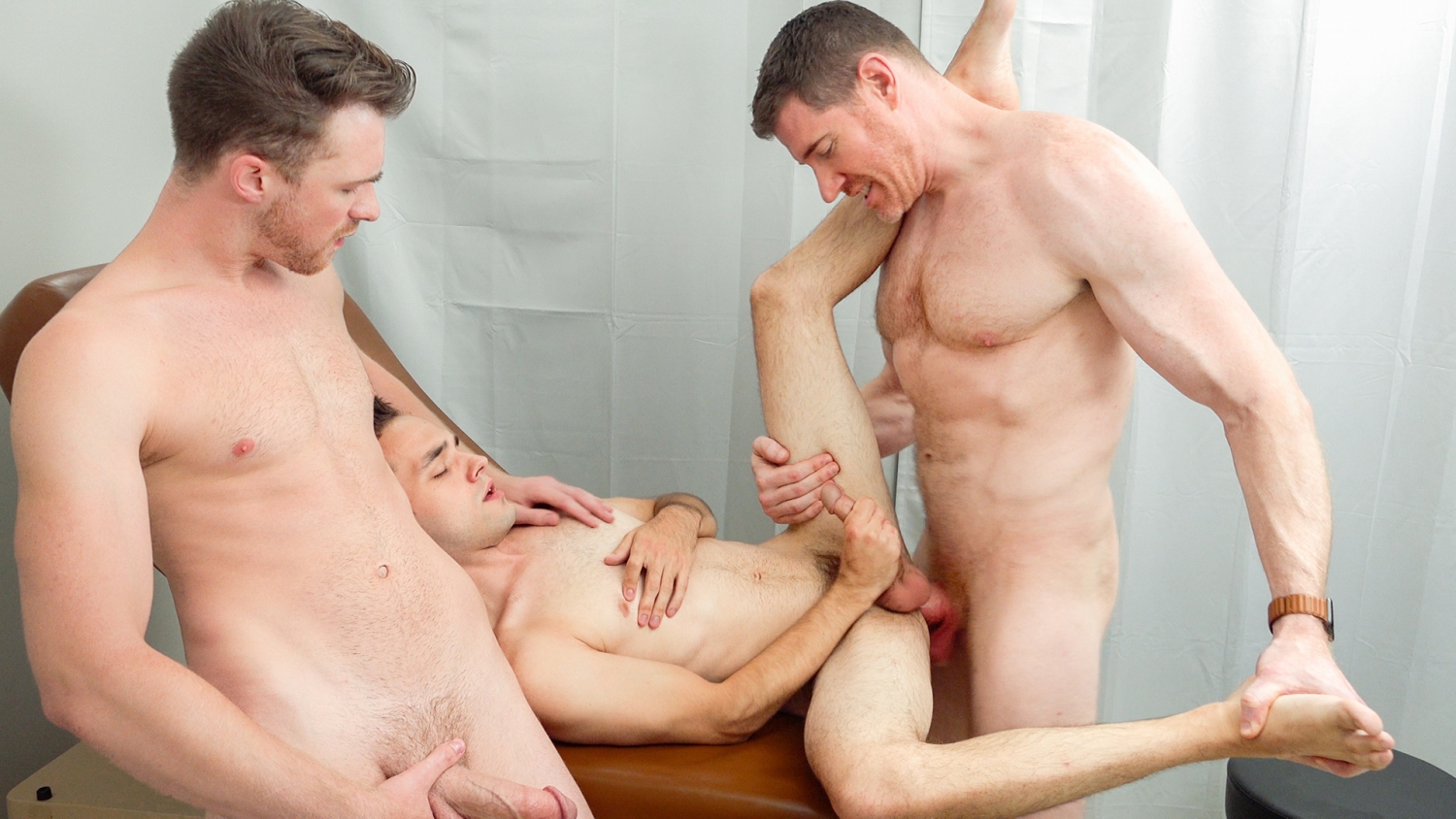 Dr. Wolf's Kingsize Nurse Cole
Marcus couldn't wait to schedule his next doctor's appointment. It had been a while since he saw the tall, handsome Dr. Wolf, and when he got his reminder card in the mail, he was quick to get something on the books.
When Marcus went ...
Read more
When Marcus went in, he felt his heart race, eager to see the smiling face of the ginger daddy and to possibly get his massive cock in his mouth again. Then, unexpectedly, another doctor walked in! As it turned out, Dr. Wolf was on vacation! Marcus went through the normal procedure of getting weighed, measured, and all the rest, but never once got the thrill he had of being touched by Dr. Wolf.
Disappointed, Marcus immediately scheduled a follow up appointment, hoping to get time on the tall doc's schedule. The nurse thought it was a little strange, but was happy to make the appointment.
A few weeks later, Marcus was back! Sitting on the medical table with his short legs dangling in the air, he waited patiently for the door to open. And once it did, it was hard to mistake the beaming glow on his face. Dr. Wolf was back!
The older man was happy to see Marcus, recalling their previous session together. Before Dr. Wolf could get too personal, he had to get through his professional responsibilities. He raised an eyebrow when Marcus' file showed he'd been in for the same purpose a month before, and that a month before he appeared to be in perfect health. Seeing the playful smirk on the young man's face, Dr. Wolf knew there might be a non-medical purpose for the visit, but he proceeded to check him out all the same.
Marcus stood still, trying to conceal his glee at the personal attention he was getting from the handsome physician. As Dr. Wolf moved around his body, stripping him down and poking and prodding him, Marcus felt a rise in his shorts that he didn't even bother to obscure. He wanted Dr. Wolf to see he was getting excited, and Dr. Wolf was visibly aroused as well.
Once Dr. Wolf saw that Marcus was clearly in good health and eager to fool around, he put away his stethoscope and measuring tape and leaned down to kiss his horny patient. Given that it was the last appointment of the day, Dr. Wolf knew he could take his time and enjoy the feel of the shorter, young man, pressing his lips against him and feeling the smoothness of his skin.
Dr. Wolf got an idea that made him even harder as he began to think out loud.
"If you want, I could have my nurse come in… maybe he could have a little fun with us."
Marcus smiled. He remembered the handsome stud that let him into his room, well built with model good looks and beautiful eyes. Marcus said yes, practically in disbelief at his good fortune. He was so happy he scheduled another appointment!
Dr. Wolf stepped out for a moment, leaving Marcus to play with his hard cock. As he leaned back on the table and stroked his cock, Dr. Wolf returned with his nurse, Cole. Cole saw the young man playing with himself and immediately greeted him with a devious smile in return. Cole began to remove his clothes, revealing his smooth athletic body and massive bulging underwear. It was clear Cole was nearly as hung as the older doctor!
Marcus pulled it out, feeling the thick, warm meat in his hand as it continued to grow. He took it in his mouth, trying his best to take the massive member to the back of his throat. To his surprise and delight, he struggled to get much further past the head, wrapping his fingers around Cole's heavy nuts.
Dr. Wolf led Cole to stand at the exam table, placing Marcus on his back with his legs spread wide and up. Marcus' hole was beautifully tight and slightly hairy. Cole stood almost a full foot taller than him, but with Marcus on his back, he was at the perfect height to slide his wet cock inside.
Marcus let out a moan of desire as Cole pierced into his sphincter, pushing further into his body and filling him up with his unwrapped cock. It was firm and powerful, throbbing as each inch disappeared in the tiny bottom's hole.
Dr. Wolf watched, taking off his clothes piece by piece until he stood naked behind them. His monster cock hung between his long legs, growing in strength at the sight of his employee and his patient locked in passionate fornication.
Cole's smooth ass moved back and forth, looking beyond tempting to the older man. Dr. Wolf stroked himself for a while, not wanting to disturb what he saw, but soon became unable to resist his own urges.
Moving forward, Dr. Wolf pressed his giant shaft between Cole's cheeks, teasing his hole with his daddy dick as the young nurse continued to breed Marcus. Cole kept himself inside as he arched his back, presenting himself to his boss for penetration. Dr. Wolf masterfully slid himself inside, pushing into Cole's body until he was balls deep.
The feeling of Cole's hole being invaded combined with his cock deep in Marcus' body was too much to bear. Suddenly, he felt the intense rush of fluid from his loins, resulting in a massive explosion of cum from his nuts. Marcus and Dr. Wolf watched on with excitement as his load poured out of him like a fountain, splattering on the floor with the delightful sound of rainfall.
Cole looked at his boss, assuring him he could cum again, and Dr. Wolf gave him a proud smile. Marcus's hole was eager for more, and Dr. Wolf was going to make sure he had his fill of cock and cum before his session was over!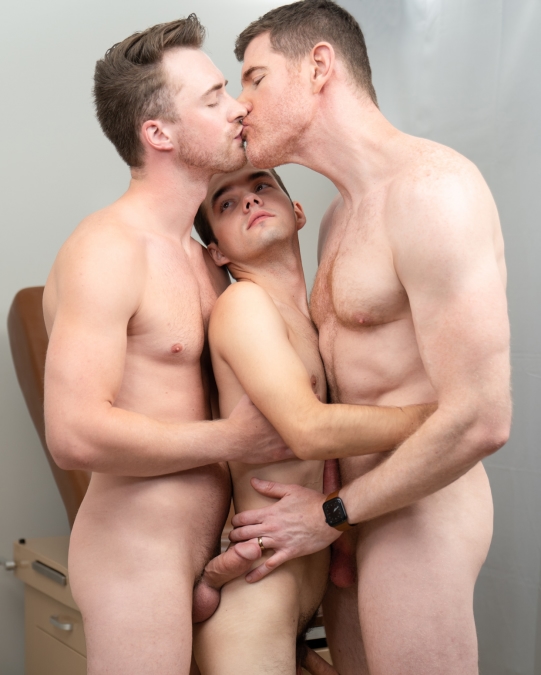 Height: 6'4"
Weight: 175lbs

Cole is a fit, hung young man with a passion for fucking! Top or bottom, the position doesn't matter to him! He's happiest when he can watch a big cock penetrate a tight hole. He loves seeing short guys get railed by big, hung giants; but he also loves the feeling of having a tiny "spinner" sit on his cock and take a deep pounding. He's not quite sure where to find these types of guys, but he knows he has to enjoy every moment when he can! He finds he's in luck when he heads to the recruitment office to meet a powerful giant in the flesh...
Height: 6'6"
Weight: 210 lbs

Dr. Wolf is an endocrinologist who specializes in helping young men monitor their growth. And in some cases, their lack thereof. But he understands that nothing about a short or small guy is necessarily unhealthy. In fact, it can be quite desirable. Towering over his patients at an impressive 6'6", he loves seeing the look in their eyes as they look up at him in his suit and tie. Professionally, he wants everyone to feel safe and secure in his office. Personally, he fantasizes about seeing each little guy mount up on his big cock! And when he gets the chance, he loves to make them whimper as he stretches their tiny little holes, and then completely submit under him as he pushes into their much smaller bodies.
Height: 5'3"
Weight: 107lbs
Build: swimmer

Marcus loves being a "pocket gay." He loves being tiny, skinny, and cute and getting the attention of much bigger, taller men. Every since he was young, he loved being the small one in school, very aware that his short stature could be an asset in certain scenarios. When he sees a bigger guy looking at him lustfully, he knows exactly what they're fantasizing about: seeing his tiny body sliding down on their big dick.

He loves nothing more than being mounted by a giant, feeling his ass stretch to take every inch.When he hears about tall men with a fetish for shorter guys, he eagerly seeks them out, hoping for a chance to play with the big boys.