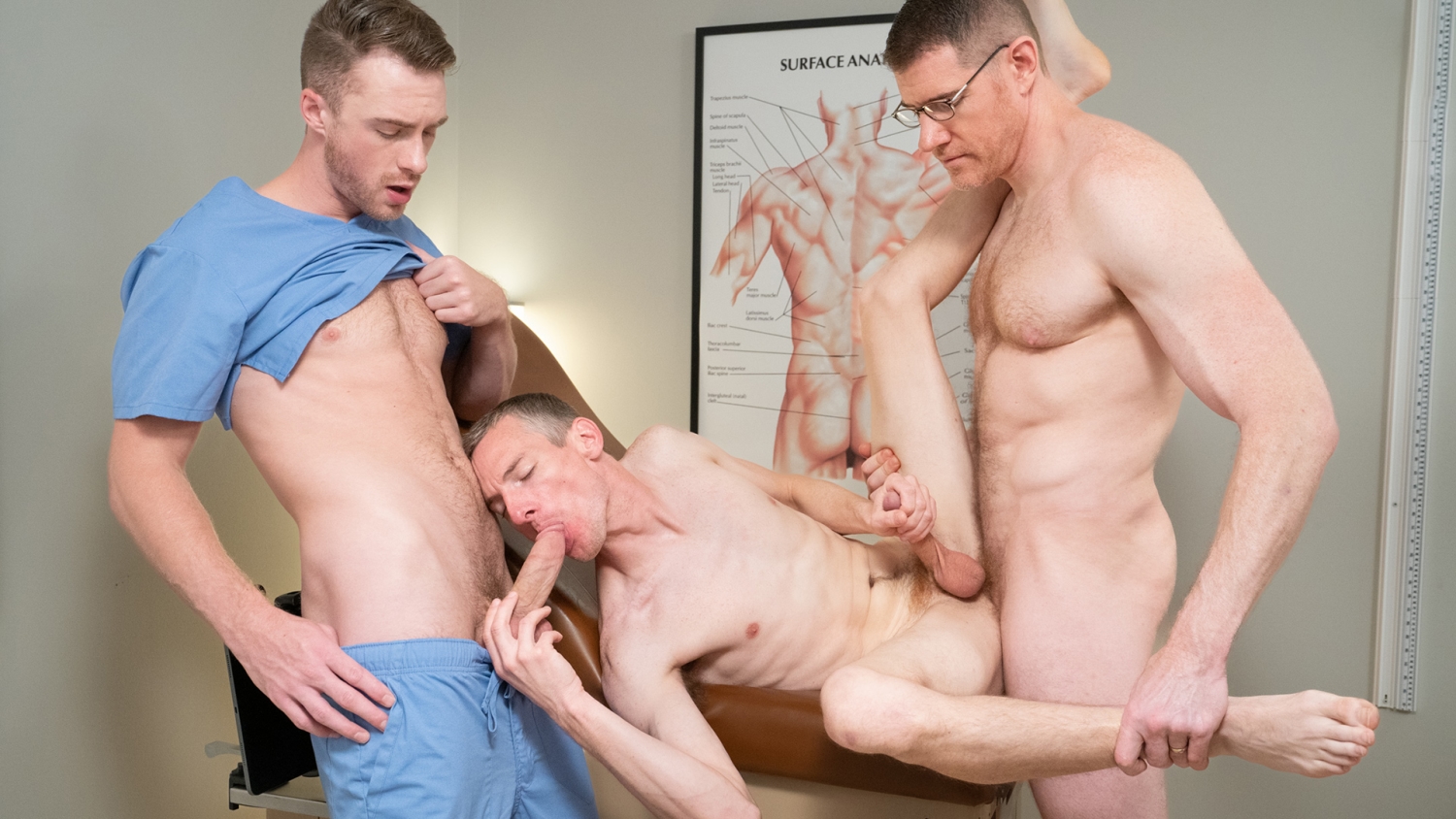 Anal Sex Ultrasound
Joshua couldn't wait to return to Dr. Wolf's office. Being where the two first met filled him with a giddy excitement that was hard to control. He fantasized about being back on his exam table and getting filled on his massive cock over and over. When he finally managed to get in at the end of a work day, he found himself reliving all the thrill and heat of his first visit.
Dr. Wolf let ...
Read more
Dr. Wolf let him know that it was just the two of them, save for the tall medic's handsome nurse, Cole. With no other patients to worry about, Dr. Wolf was able to give his full attention to his little lover.
The two wasted no time in kissing and groping each other, feeling their size difference everytime they leaned up or down to meet face to face. Joshua still couldn't believe how tall Dr. Wolf was towering over him like a Titan everytime he came up from a passionate kiss. He wondered what he did to get so lucky. To think he could have found any other doctor and not be in the presence of such a big, strong, handsome man.
When Dr. Wolf got Joshua completely out of his clothes, the giant couldn't resist grabbing the smaller man's massive cock. Despite his shorter stature, he was impressively hung, gifted with a massive member that the taller man loved to play with.
Joshua loved the attention, but he was singularly focused on getting Dr. Wolf's mammoth monster back inside him. Pulling out his shaft from his dark pants, Joshua stood stunned at the sight of the throbbing cock that managed to hide within the tall doctor's clothes. It seemed impossibly big to be able to be contained in regular pants, seeming even more impressive as it came up to the shorter man's chest!
Joshua dove down on it, taking it into his mouth and feeling it stretch his jaw. He knew it was a struggle to swallow down, but he enjoyed the uphill battle of will. He would do anything to feel Dr. Wolf's cock inside him, anywhere he could, any way he could, even if it meant unhinging his jaw in the process!
Dr. Wolf put Joshua back on the table, gazing down at his beautiful, smooth body, spreading his legs and opening up his sweet, smooth butt. His hole was open and ready, and the look in Joshua's eyes practically begged him to push into him.
Dr. Wolf contemplated it for a moment, thinking about feeling his rigid tool move deep into his gut until his sphincter kissed up against the base of his penis. But in thinking about this intense penetration, a pervy thought came into his head.
Calling his nurse in, Dr. Wolf wanted to show Joshua just how much his little body was taking of the tall giant. Joshua was so hot and horny for Dr. Wolf, he would have done anything he asked.
When Cole came in, Joshua was amazed by the angelic beauty of the young man. He wasn't as tall as Dr. Wolf, but he stood several inches about Joshua all the same. The short bottom laid back on the exam table, feeling Dr. Wolf push his bare cock into his hole as Cole pulled his member out of his pants.
Cole was practically a smaller version of Dr. Wolf. His body was toned and strong and his cock was almost as thick and long as his boss'. Before Joshua could size up all the similarities, he was taking the young man's monster cock into his mouth as Dr. Wolf was drilling him deep.
Joshua was in heaven, he could have stayed splayed open while getting spit roasted all day long. He stroked his cock and moaned escasticly over Cole's cock, reacting in time to Dr. Wolf's thrusts.
It was only then that Dr. Wolf asked Cole to retrieve an ultrasound tool, still while the older man was several inches deep inside Joshua. Joshua wasn't sure what was going to happen next, but as long as Dr. Wolf kept himself more than half a foot deep into his gut, he was happy to go on the adventure…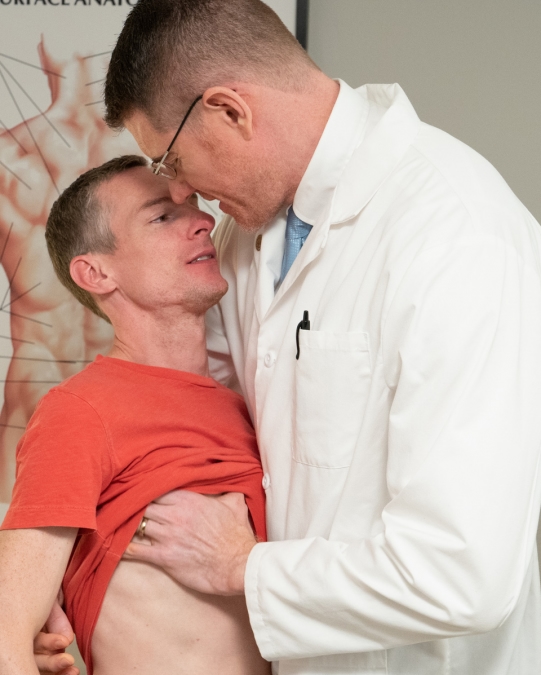 Height: 6'4"
Weight: 175lbs

Cole is a fit, hung young man with a passion for fucking! Top or bottom, the position doesn't matter to him! He's happiest when he can watch a big cock penetrate a tight hole. He loves seeing short guys get railed by big, hung giants; but he also loves the feeling of having a tiny "spinner" sit on his cock and take a deep pounding. He's not quite sure where to find these types of guys, but he knows he has to enjoy every moment when he can! He finds he's in luck when he heads to the recruitment office to meet a powerful giant in the flesh...
Height: 6'6"
Weight: 210 lbs

Dr. Wolf is an endocrinologist who specializes in helping young men monitor their growth. And in some cases, their lack thereof. But he understands that nothing about a short or small guy is necessarily unhealthy. In fact, it can be quite desirable. Towering over his patients at an impressive 6'6", he loves seeing the look in their eyes as they look up at him in his suit and tie. Professionally, he wants everyone to feel safe and secure in his office. Personally, he fantasizes about seeing each little guy mount up on his big cock! And when he gets the chance, he loves to make them whimper as he stretches their tiny little holes, and then completely submit under him as he pushes into their much smaller bodies.
Joshua had always been shorter and slighter build, spending most of his youth as the runt of his siblings. He never thought much of it beyond the usual shopping experiences, trying to find clothes that fit his smaller body that didn't have superheroes or cartoons on them. Even in his personal life, his size never really came up ...except for when he took off his pants. Most guys don't expect someone of his height to have a dick as big as his, something that Joshua didn't mind at all.